Training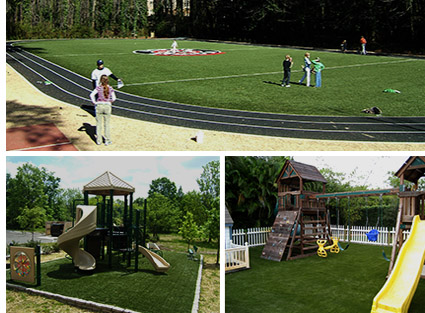 Artificial Turf is available for applications such as sports training facilities, driving ranges, batting cages and other areas that need a simulated grass surface. Artificial turf provides your customers with a quality surface for their activity and keeps your facility looking in top shape. The synthetic grass surface has a shock absorbency capability to reduce the effects of surface impacts. In many case the artificial turf is actually softer than real grass. Call us for more information on solutions for sports facilities and recreation centers. All sports, at all levels, have become very competitive. This has led to a major opportunity, not only for the athletic organizations, but personal training facilities to upgrade their image with synthetic turf practice areas for their athletes to use daily with little to no maintenance.
The installation of the heavy–duty synthetic turf systems can alleviate the headaches associated with maintaining a quality practice facility for all sports. Whether it is indoors or outdoors, the infilled synthetic turf systems have provided an excellent alternative for year–round use. Speed training, position training, fielding, hitting, and any workout imaginable can take place because the system is durable enough to handle the constant use and still perform at the highest level. Training, equipment, sleds, and portable pitcher's mounds/batters boxes are only a few of the items that can be added to a training installation to enhance the productivity of the area.
Playgrounds & Rec Areas
Whether it is a residential or public playground, courtyard area, or dedicated recreation area, the amount of kids that
create traffic on natural grass make it impossible for any maintenance staff to properly maintain the surface. The
options remain for either a natural area with many dirt patches, and, if wet, mud and puddles, or costly,
high–maintenance mulch and wood chips. With theinstallation of a "high" synthetic turf system any size area can be
transformed in to a perfectly lush, safe,and clean surface that can be used year–round no matter what the weather
conditions. If it rains overnight, the kids will still be able to play during the day as there will be no puddles, and
especially, no mud.
Playground Areas
You can have a playground turf that is cushioned for a safer play area and provides a beautiful, manicured look
despite the heavy foot traffic of active children. Here are a few of the many reasons to utilizean artificial grass turf:
Eliminates Bare Spots and Ruts
No Chemical Fertilizer Exposure
Better Cushioning Than Hard Dirt
Year Round Beauty Virtually Maintenance Free