Football - Artificial Synthetic Football Field Turf Pricing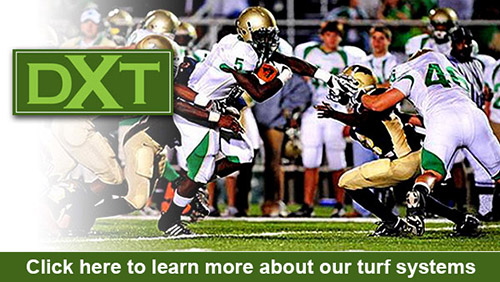 The condition of the playing surface has a direct impact on the play of the game.  With the demand for field space, it has become a necessity for teams to have a facility that can be utilized at any time, no matter what the weather conditions. 
The synthetic turf systems offered by Deluxe Athletics have all been strenuously tested and proven to provide our clients with the performance, durability, and safety that is demanded from their field.   With the ability to offer various styles of fiber and infill, we can tailor your field to meet your needs and desired playing characteristics.
With the need for constant use, natural grass fields, no matter what maintenance is performed, cannot handle the heavy traffic that takes place with multi game and practice requirements that span different seasons.
Our synthetic turf systems are engineered to handle intense usage and always perform at the same high level.  So, whether you are having two-a-days during drought conditions, or playing late in the season in inclement weather, your field will always be consistent.
Time that was devoted to taking care of your field and figuring out where to practice in the rain has all been eliminated.  The ancillary
benefits will now provide you with more time to concentrate on what counts, getting ready for the next game.  All you will need to take
care of is your program, leave the field to us. It will be in good hands.