Residential Waterless Synthetic Lawns
The landscape turf systems can be used on many different applications and situations. Whether it is a private residence where the costs of maintaining a pristine lawn can be very expensive, or it is a vacation home that the owner has little time to take care of, a landscape turf system will provide the appeal and fiscal desires that the client is looking for.

Commercial clients can also benefit from this system as well. With small grass areas such as islands and areas around the perimeters of stores and restaurants, clients can spend a large amount to keep them properly maintained.

When comparing the costs of synthetic versus natural over an extended period, it can actually be less expensive to install worry-free synthetic turf system.
Residential Waterless Grass Advantages
Whether it is a residential lawn or a large commercial lawn you can rely on Deluxe Athletics to build a lawn that will make your life easier. Here are a few advantages of having an artificial grass lawn
Eliminates Costly Watering
Eliminates Chemical Fertilizers
Eliminates Mowing & Edging
Consistent Manicured Beauty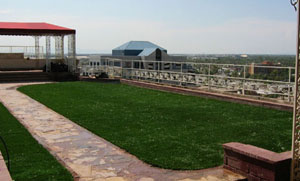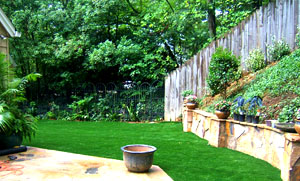 Providing Environmental Turf Solutions
For an estimate on synthetic turf versus natural grass in extended costs.