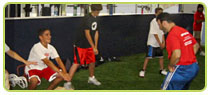 Turf systems provide years of enjoyment.
Artificial Turf Fields are perfect for indoor and outdoor applications where a grass surface is necessary but the time and cost to maintain a natural grass surface is not practical.

With several types of synthetic grass available you can have artificial grass areas of light to dark green and a narrow to wide grass blade width to provide a near match for St. Augustine, Bermuda, Fescue, Zoysia and other common turf grasses. Special field markings, logos and boundary lines can be included for any sport or activity. The finished product will rival the look of most any professional sports venue.
Today's synthetic turf has a truly lifelike look and feel. All of our products are designed for the performance demands of a sports field so durability is not a concern. We offer total design and installation services for any artificial grass turf project. Call us today to learn more about artificial grass prices, installation and the advantages of having an artificial grass athletics area.