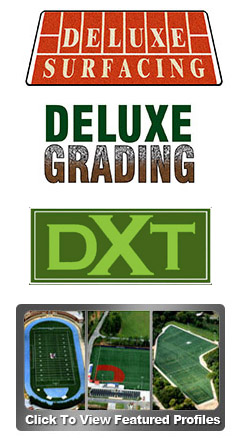 DELUXE ATHLETICS NEWS
Deluxe Surfacing Continues to Grow Services Provided by Deluxe Athletics
Marietta, GA - January 2014 – In 2013, Deluxe Surfacing was created to provide additional athletic facility construction services provided in-house to Deluxe Athletics' clients.
"The addition of Deluxe Surfacing has broadened our range of products and services we can offer clients to include tennis courts, tracks, netting and fencing. It is an excellent complement to our already vast athletic facility capabilities," stated Chris Daniluk, President of Deluxe Athletics.
2013 saw Deluxe Surfacing complete over 30 tennis court and track projects, a successful initial year by any benchmark.  For 2014 and beyond, Deluxe Surfacing has expanded the capabilities of the organization to handle all specialty concrete work required for tracks, fields, channel drains, and event construction. 
With Deluxe Grading handing all site work, and Deluxe Surfacing handling all specialized all weather surfacing, the Deluxe Athletics team can truly provide 100% turn-key services with no subcontractors.  
About Deluxe Athletics
Deluxe Athletics manages turf, track, and tennis applications on all levels of consultation, design, earthwork and product installation for residential and commercial use. Founded in 2004 by Chris Daniluk, Deluxe Athletics has emerged as an industry leader providing high quality athletic fields for football, soccer, baseball, lacrosse and athletic multi-use facilities. Deluxe Athletics' also installs synthetic turf systems for playgrounds, golf, landscaping, training facilities, and general aesthetic use. Deluxe Athletics partners with leading manufacturers in the athletic surfacing industry and is committed to strenuously testing all products for performance, safety, and longevity.