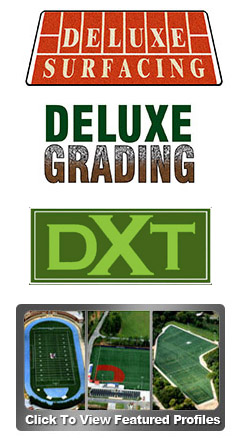 DELUXE ATHLETICS NEWS
Deluxe Athletics Completes Eight Fields with the Archdiocese of Atlanta
Marietta, GA – March, 2014 - Deluxe Athletics will have completed eight projects for the Archdiocese of Atlanta by the end of the first quarter 2014. Seven of the eight projects were done in a design build capacity, and the remaining one was a removal and replacement of an older field. One of the projects also required the reconstruction of track events and resurfacing.
Saint Pius X in Atlanta, GA contracted Deluxe Athletics for three different projects. Their new baseball field included concrete, netting, fencing, and scoreboard installations, all of which had to be coordinated around the field construction. Along with the construction of the baseball field was a practice field for football, soccer, and lacrosse which incorporated netting installed along the ends of the field. Lastly, the field at George B. Maloof Stadium was just recently removed and rebuilt while recycling the infill materials from the old field.
Blessed Trinity in Roswell, GA also asked Deluxe to build three fields. The entire project was a design build for all the renovations. The soccer/lacrosse field and the baseball field required fencing and netting, as well as concrete work and natural grass stabilization. For the stadium field, in addition to turf requirements for the site called for the reconstruction of the shot put, discuss, long jump, pole vault, and high jump events as part of the process. The project will finish with resurfacing of the track in the spring/summer of 2014.
Another project for the Archdiocese was a small track and field for Queen of Angels grade school in Roswell, GA. This project was also design build and required reworking the drainage and irrigation lines on the site.
The final project currently under construction is for St Joseph's in Athens, GA and it will be a midsized field with a small track around it. It is also a design build project that will require the relocation of utilities and additional concrete work.
Dennis Kelly, Senior Project Manager for Catholic Construction Services notes, "It has been a pleasure to work with a full service contractor like Deluxe Athletics. No matter what the requirements for renovations on our school facilities, they have the capabilities and procedures in place to handle the projects from start to finish.
"We are fortunate to have a partner like them that is able to deliver high end facilities at an excellent value to our schools."
About Deluxe Athletics
Deluxe Athletics manages turf, track, and tennis applications on all levels of consultation, design, earthwork and product installation for residential
and commercial use. Founded in 2004 by Chris Daniluk, Deluxe Athletics has emerged as an industry leader providing high quality athletic fields
for football, soccer, baseball, lacrosse and athletic multi-use facilities. Deluxe Athletics' also installs synthetic turf systems for playgrounds, golf,
landscaping, training facilities, and general aesthetic use. Deluxe Athletics partners with leading manufacturers in the athletic surfacing industry
and is committed to strenuously testing all products for performance, safety, and longevity.